What is Nushu ?
Nushu is a beautiful script which was created hundreds of years ago by unschooled, rural, peasant women in Jiang Yong Prefecture, Hunan Province, China .

Why did these women create this script ?
By whom and when was this script actually created ?
How did the women learn and use this script ?
What value does this script have ?

There are so many unanswered questions surrounding this script, and so I invite you to Journey with me into the mysterious and fascinating world of Nushu--an extremely important and valuable part of global women's culture and is now threatened with extinction.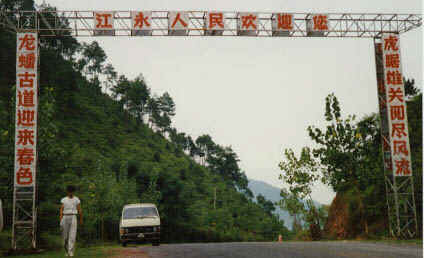 First of all, please let me introduce myself. I am your guide Orie Endo. I am a Japanese University professor and have been doing research studies on socio- linguistics for many years, and at present, I am engaged in an on-going research project on Nushu.

My story begins in November, 1992, when I read a paper written by Toshiyuki Obata entitled "Joysyo ni kansuru jyakkan no mondai ni tsuite 女書に関する若干の覚え書きについて" (Some problems surrounding Nushu) in Bunka Gengogaku-Sono teigen to kensethu 文化言語学―その提言と建設 (Cultural Linguistics the Definition and Construction) Sanseido 1992. Obata introduced Nushu and wrote that there were many specifics as yet unknown about its origin and development.

At that time, my image of Nushu was unclear, but I did begin to wonder why Chinese women needed another script, in spite of having Hanzi, which has such a long history. I, then, decided to write to Prof. Zhao Li-ming whose name was mentioned in Obata's paper, and asked for more information on Nushu and why it was that only women used the script.
In February 1993, I went to Beijing to give Japanese Lessons at Beijing University, and was able to meet Professor Zhao in person. She explained the environment and situation of the women who created and used the script due to the fact they were not given any schooling or taught Hanzi. She also showed me a fan and a silk handkerchief with beautifully written script on them. I also saw some notebooks that were bound in black cotton cloth, tightly stitched, in which embroidery patterns and colorful threads were stored. The beauty of the script, with its delicate wispy strokes instantly fascinated me. During my stay I came to the conclusion that Nushu was a product of sexual discrimination.

In the summer of August 1993, I asked to Prof. Zhao to take me to Jiang Yong Prefecture. We visited villages to interview the old women to determine if they knew of Nushu and if their mothers had written it. I wanted to find out more about the history of the script. Since then, I have been visiting these villages once or twice every year, my fascination deepening not only because of the beauty of the script but also due to the energy, passion, and power of the women who created and transmitted it for so long .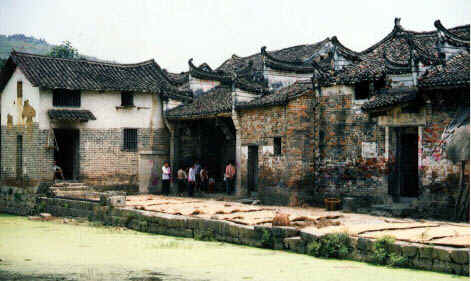 Each time I visit, I encounter new people and information of interest. For instance, in 1994 I had the pleasure of discovering a new transmitter Ms. He Yan-xin. Her ability to write Nushu has improved each year since the time we first met. In August 1998, I came across another unknown transmitter, Ms. He Jing-hua.

I hope that I have peaked your interest and would be pleased if you would read a paper I recently presented at the annual meeting of the Association for Asian Studies. It is entitled: NUSHU--AN ENDANGERED SYSTEM OF WOMEN'S WRITING FROM HUNAN, CHINA

Thank you !
Orie Endo
Copyright© 1999, 2000, 2001 Orie Endo.